Toccoa River Swinging Bridge A Favorite North Georgia Destination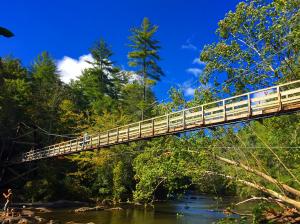 Noted as one of the most scenic sections of the Toccoa River, this unique footbridge is a popular year-round attraction for day hikers and campers along with those kayaking or canoeing the Toccoa River Canoe Trail. It spans an impressive 265 feet across the Toccoa River which makes it the longest swinging bridge east of the Mississippi River. This swinging bridge was constructed by a private contractor for the US Forest Service in conjunction with the Appalachian Trail Club and completed in 1977. Since that time this landmark has become one of the most popular hiking and camping spots in Blue Ridge, Georgia. This unique structure is located along one of the more well-known long-distance trails in the southeast, The Benton MacKaye Trail, at 17.1 miles from the trails Southern Terminus.

You can access the swinging bridge in one of three ways. If you're a hiker, like myself, there are two options. To make for a shorter day hike you can park at the Benton MacKaye parking area on Ga. Hwy. 60 and take a 3-mile moderate hike (6-miles out & back) along a forest filled trail to the north end of the bridge. For a longer day hike or possible overnight hike, you can park at the three forks parking area located on FS Road 58 (Noontootla Road) that makes for an 8.4-mile moderate to difficult hike (16.8 miles out & back) to the southern end of the bridge. Option 3 is a driving option for those of you that choose not to journey along the trails. Take FS Road 816 off of Ga. Hwy. 60 (There is a National Forest sign noting the Toccoa River Swinging Bridge) for approximately 3 miles to a small parking area. From the parking area it will be a 0.5-mile walk to the north end of the bridge.

Things to put on your visit to do list would include visiting Downtown Blue Ridge, Georgia which offers local shopping and a variety of dining options along with the Blue Ridge Scenic Railway. For you trout fisherman, there are many trout waters to fish including the Toccoa River itself and nearby Coopers Creek to name a few, all of which can be fished guided or self-guided. If you're not familiar with the area and would like a little expertise in hooking that trophy fish be sure to call on our friends at Reel 'Em In Guide Service. If you visit in the summer months make sure to visit nearby Toccoa Valley Campground Tubing & Rafting for a scenic journey tubing down the Toccoa River.

Whether you're a hiker or just out exploring the "Swinging Bridge" you will be well rewarded for your time and a day well spent in our beautiful North Georgia Mountains.